Inspiring and inciting awareness of social and environmental issues around the world through the transformative power of art.
SPRING 2011
LETTER FROM THE EXECUTIVE DIRECTOR
Dear Friends:

Welcome to our winter — um, spring — um, almost-summer newsletter.

Time has slipped by much too quickly here at Art Works for Change. We've been head-down in several exciting projects. By the time we looked up, we realized how much time had passed since our last update.

The short story: Our Off the Beaten Path exhibition has been growing and traveling, engendering rich conversations and a kaleidoscope of activities at each stop. Our forthcoming Nature's Toolbox exhibition is taking shape, preparing for its 2012 debut at one of the foremost science museums in the U.S. Financial support, always challenging, continues to find its way to us — both in the form of philanthropic grants as well as earned revenue from participating museums. And our team continues to grow, bolstering our professional capabilities with each new member.

The longer story follows. Read on.

As always, I look forward to your comments. You can contact me at rjr@artworksforchange.org

Thanks, and have a wonderful summer.



Randy Jayne Rosenberg
Executive Director and Chief Curator
Art Works for Change
"OFF THE BEATEN PATH" TRAVELS TO AFRICA
Our acclaimed exhibition, "Off the Beaten Path: Violence, Women and Art," is living up to its name, traveling to far off and sometimes remote venues.
A spinoff exhibition, "Off the Beaten Path/AFRICA," will open on July 12 through August 31, 2012 at the Galerie le Manège of the French Cultural Center in Dakar, Senegal. Comprised of primarily Senegalese artists creating new artwork, the exhibition aims to give voice to the issue of violence against women and girls within a community that views the subject as taboo.
The AWFC team of Susan Mensah (pictured) and Gayle Wilson just returned from a preparatory trip to Dakar for the exhibition and to attend a weeklong conference led by our sponsor, Trust Africa. While there, they met with our many in-country partners to build momentum and ensure that the exhibition's legacy will be one that will continue within the country after the art comes down.
Mindful of the complexity and deep-rootedness of violence against women and girls, the Africa project will leverage the original exhibition and extend its impact by launching an accompanying grassroots educational campaign that builds on the strengths and successes of our collaborative partners.
This collaboration is central to our belief that communities hold the power to creatively address and find solutions to the issues our exhibitions bring to light. As catalysts, we seek to inspire and support communities' resources and best intentions and virtues. We provide practical tools within each exhibition to support our audiences in becoming agents of change. For example, through our work with PLAN Senegal, we are providing both children and their parents with cameras to document their daily lives, give voice to their concerns, and begin a generational dialogue about violence, respect and hidden emotions.
We look forward to the vibrant opening events, which include a hip-hop concert for which 300 children will be bussed in from outlying regions; a welcoming speech by the Senegalese Minister of Gender and Culture; and many other free programs for the run of the exhibition, focused on the theme of ending violence against women and girls.
For more details, see our press release.
OTBP CONTINUES ITS WORLD TRAVELS
The original "Off the Beaten Path" exhibition completed its engagement at the Museo Universitario del Chopo in Mexico City, then opened at the Chicago Cultural Center for a three-month tour that ended in April. Together, the two venues brought nearly 100,000 visitors to the exhibition.
The Chicago exhibition was marked by a heartening groundswell of community involvement that included testimonial-writing workshops for survivors of sexual and physical abuse, facilitated by the Voices and Faces Project; a reading series addressing violence against women, produced by Stories on Stage and performed by regional actors from Steppenwolf Theatre; a return of The Bandana Project, a partnership between the Southern Poverty Law Center and Chicago-based organizations, working to raise awareness of the sexual exploitation of immigrant and farm worker women; and artist panels, films, and discussions to packed houses.
Click here to view a sampling of the many comments left by visitors to the Chicago exhibition of "Off the Beaten Path".
OTBP will open next on June 6 at the Centers for Disease Control and Prevention in Atlanta. There, too, the show is inciting enthusiastic community programming. The exhibition will then travel to the Newcomb Gallery at Tulane University in New Orleans, coinciding with the Prospect 2 Biennial; then on to South Africa for a 2012 opening at the South African National Gallery and the Johannesburg Art Gallery in 2013.
We are pleased to announce that our Tulane partners will help create a catalog for the exhibition.
TWO ARTISTS JOIN "OFF THE BEATEN PATH"
As our exhibitions travel, occasionally they take on new works and artists. That's the case with "Off the Beaten Path," which welcomes Fatou Kande Senghor and Elisabeth Sunday to the traveling exhibition. Their work speaks to the some times harsh landscape of the African culture with respect to women.
Elisabeth wrote in the Field Notes to her 2009-2011 travel to Ethiopia:
The Hamar women are spirited and outgoing. They were not shy and very interested in talking with me about whatever I asked about. One thing that all the women were interested in sharing was about the bloody beatings they received at the hands of their husbands and boyfriends. I told them it was illegal in Ethiopia for a man to hit his wife or girlfriend. They didn't know that. … The Hamar woman pictured, named Keri, allowed me to photograph the very large scars on her back she had received from her husband. She doesn't want her daughters to be beaten. And she doesn't want her sons to beat their wives.
Fatou is a multifaceted visual Senegalese artist, working as a film director, photographer and co-founder of Waru Studio, a platform for filmmakers of her generation. Fatou worked as a cinematographer with Wim Wenders on the short movie "The Invisible," about women that were raped by the May May warriors during the war in Congo. You can see here a gripping photographic series she created.
"NATURE'S TOOLBOX" PREPARES FOR MAY 2012 LAUNCH
"Nature's Toolbox: Biodiversity, Art and Invention" is Art Works for Change's upcoming traveling exhibition. It uses contemporary art to link nature's bounty to our everyday activities and challenges. The exhibition shows how biodiversity contributes to the quality of our lives through a mindboggling range of "technologies" that are elegant in their simplicity, remarkable in their ingenuity, and sustainable in their impacts. It aims to help viewers understand and respect the power and beauty of nature's genius — the 3.8 billion years of Earth's "research and development" that comprise life's operating instructions and the design of our world.
The exhibition's launch will take place at the Field Museum in Chicago in May 2012, where it will enjoy a seven-month engagement. The Field Museum estimates that more than 400,000 people will attend the show. The exhibition will travel next to The Leonardo in Salt Lake City, in early 2013.
"Nature's Toolbox" reflects the public's hunger for positive images of the future. Effectively told, nature's stories can have a powerful impact in determining how our future unfolds. The stories at the heart of "Nature's Toolbox" offer fresh solutions, showing audiences that humanity is itself an essential piece of this system. The combination of the 22 artists' stories, the scientific underpinnings provided by the Field Museum curators, and the technological innovation of marketplace products integrated into the exhibition will create a comprehensive and compelling picture of the problems and solutions.
For more information and the artist list visit the Nature's Toolbox page on our web site.
"Nature's Toolbox" has been generously funded by the Nathan Cummings Foundation, SC Johnson and Family, and the Adobe Foundation.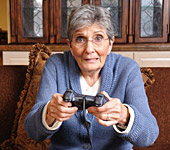 Lastly, we are venturing into the area of interactive gaming for children and adults. Through games for social change — "games for good," as they're called — researchers are finding that we can learn valuable lessons. Qualities come forth that often exemplify our best selves as we become motivated, optimistic, collaborative, and heroic in the face of "failure," thereby cultivating resilience. Researchers and game designers are finding that these qualities can affect how we live in the real world. Jane McGonical, renowned game designer notes, "When we are playing, we are not suffering."
Toward this end, Art Works for Change is working with several partners to create and incorporate games for social change within both our "Nature's Toolbox" and "Off the Beaten Path" exhibitions. We'll have more to report on those projects next time.
Art Works For Change, Inc. is a California nonprofit public benefit corporation.